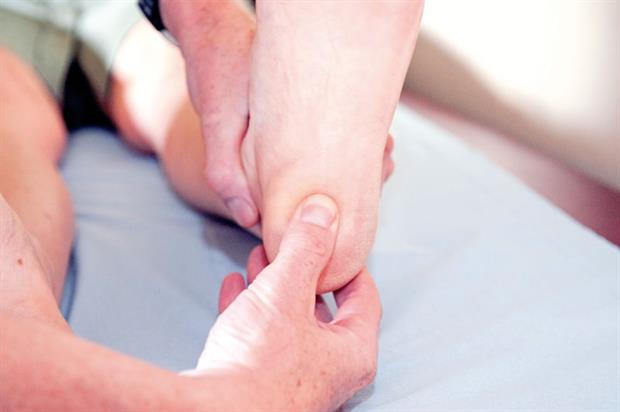 Overview
Plantar
fasciitis is the most common cause of heel pain. Pain from plantar fasciitis is often most noticeable during the first few steps after getting out of bed in the morning. The plantar fascia is a thick band of tissue in the sole of the foot. Microtearing at the origin of the plantar fascia on the heel bone (calcaneus) can occur with repetitive loading. This microtearing leads to an inflammatory response (healing response) which produces the pain. Risk factors for plantar fasciitis include excessive standing, increased body weight, increasing age, a change in activity level, and a stiff calf muscle.
Plantar
fasciitis can be managed non-operatively in the vast majority of patients. The main components of an effective non-operative treatment program are: calf stretching with the knee straight, plantar fascia stretching, activity modification (to avoid precipitating activities), and comfort shoe wear.
Causes
Plantar
Fasciitis often leads to heel pain, heel spurs, and/or arch pain. The excessive stretching of the plantar fascia that leads to the inflammation and discomfort can be caused by the following: Over-pronation (flat feet) which results in the arch collapsing upon weight bearing A foot with an unusually high arch A sudden increase in physical activity Excessive weight on the foot, usually attributed to obesity or pregnancy Improperly fitting footwear Over-pronation (flat feet) is the leading cause of plantar fasciitis. Over-pronation occurs in the walking process, when a person's arch collapses upon weight bearing, causing the plantar fascia to be stretched away from the heel bone. With
Plantar
Fasciitis,
the bottom of your foot usually hurts near the inside of the foot where the heel and arch meet. The pain is often acute either first thing in the morning or after a long rest, because while resting the plantar fascia contracts back to its original shape. As the day progresses and the plantar fascia continues to be stretched, the pain often subsides.
Symptoms
Patients with plantar fasciitis typically experience pain underneath the heel and along the inner sole of the foot. In less severe cases, patients may only experience an ache or stiffness in the plantar fascia or heel that increases with rest (typically at night or first thing in the morning) following activities which place stress on the plantar fascia. These activities typically include standing, walking or running excessively (especially up hills, on uneven surfaces or in poor footwear such as thongs), jumping, hopping and general weight bearing activity. The pain associated with this condition may also warm up with activity in the initial stages of injury. As the condition progresses, patients may experience symptoms that increase during sport or activity, affecting performance. In severe cases, patients may walk with a limp or be unable to weight bear on the affected leg. Patients with this condition may also experience swelling, tenderness on firmly touching the plantar fascia (often on a specific spot on the inner aspect of the heel) and sometimes pain on performing a plantar fascia stretch.
Diagnosis
A thorough subjective and objective examination from a physiotherapist is usually sufficient to diagnose plantar fasciitis. Occasionally, further investigations such as an X-ray, ultrasound or MRI may be required to assist with diagnosis and assess the severity of the condition.
Non Surgical Treatment
In many instances, plantar fasciitis can be treated with home care. Changing your physical activities, resting the foot, and applying ice to the area are common remedies. Taking over the counter medications such as ibuprofen or acetaminophen can help reduce pain and inflammation that may have developed. An orthotic device placed in your shoes can also significantly help to reduce pain. In addition, orthotics can also help promote healing to reverse plantar fasciitis. If pain from plantar fasciitis continues despite conservative treatments, you may need to visit a doctor or podiatrist. It's important to seek medical advice before heel pain and damage becomes worse. If the condition is allowed to worsen, more serious or invasive forms of treatment may be required to stop pain. A visit to a doctor may reveal other conditions affecting the foot as well, such as Achilles tendonitis, heel spurs, or other heel pain conditions. An x-ray may also be taken, which can reveal the presence of a heel spur. In rare cases surgery may be required to release tension on the plantar fascia, or to remove a portion of a heel spur. But again, most heel pain conditions can be resolved using conservative treatment.
Surgical Treatment
Surgery is considered only after 12 months of aggressive nonsurgical treatment. Gastrocnemius recession. This is a surgical lengthening of the calf (gastrocnemius) muscles. Because tight calf muscles place increased stress on the plantar fascia, this procedure is useful for patients who still have difficulty flexing their feet, despite a year of calf stretches. In gastrocnemius recession, one of the two muscles that make up the calf is lengthened to increase the motion of the ankle. The procedure can be performed with a traditional, open incision or with a smaller incision and an endoscope, an instrument that contains a small camera. Your doctor will discuss the procedure that best meets your needs. Complication rates for gastrocnemius recession are low, but can include nerve damage.
Plantar
fascia release. If you have a normal range of ankle motion and continued heel pain, your doctor may recommend a partial release procedure. During surgery, the plantar fascia ligament is partially cut to relieve tension in the tissue. If you have a large bone spur, it will be removed, as well. Although the surgery can be performed endoscopically, it is more difficult than with an open incision. In addition, endoscopy has a higher risk of nerve damage.
Stretching Exercises
While it's typical to experience pain in just one foot, massage and stretch both feet. Do it first thing in the morning, and three times during the day. Achilles Tendon Stretch. Stand with your affected foot behind your healthy one. Point the toes of the back foot toward the heel of the front foot, and lean into a wall. Bend the front knee and keep the back knee straight, heel firmly planted on the floor. Hold for a count of 10.
Plantar
Fascia
Stretch. Sit down, and place the affected foot across your knee. Using the hand on your affected side, pull your toes back toward your shin until you feel a stretch in your arch. Run your thumb along your foot--you should feel tension. Hold for a count of 10.